STÖHR distribution cabinets
Our distribution cabinets represent innovative solutions combined with modern design. We only use high-quality hot-dip galvanized steel sheet, the required stability being guaranteed by the compact design.
Variety is our trump card: We offer products for surface or flush mounting in both coated and uncoated version. Lasting attractive appearance guarantees impact-proof powder coating. You have the freedom to choose the coloring. RAL 9010 being the standard coloring, we can also realize all other RAL colors.
Telescope version
Extendable in grid dimension with 6 width sizes; customized dimensions are available, too
Feet with non-slip pads, height-adjustable from 10 mm to 160 mm
Screed impact plate with marking for the finished floor construction, depth-adjustable
Universal holder, continuously adjustable in horizontal and vertical direction
Optimal holding in storage and transport protection – the four sliding brackets are snap-fitted only when mounting
Reduced storage costs
Push-in door with turn-lock, optionally with cylinder lock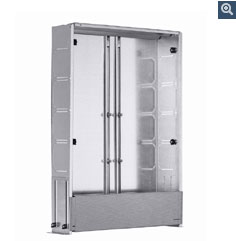 Standard flush-mounted version
Profile frame gives high stability
Universal holder
Continuously adjustable depth
Punched pipe ducts
Assembled and height-adjustable feet
Extendable impact plate
Push-in door with turn-lock, optionally with cylinder lock